What do collard greens and vegetable soup have in common? Neither of them are complete unless there's a piece of crusty cornbread to go along with it. When you think of cast iron skillet cornbread, you can't go wrong with this authentic Southern gluten free cornbread recipe.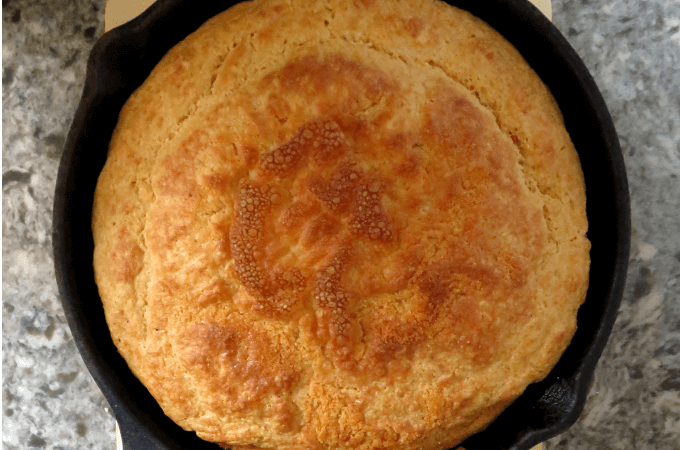 Cast Iron Skillet Cornbread
For the most part, just about every family in the South has a cornbread recipe and a cast iron skillet that's been passed down for generations. Some cooks, like my Aunt Dorothy, made a flat cornbread that didn't use any leavening. Others, like Momma, made cornbread that was fluffy on the inside and crusty on the outside.
But one thing they'd both agree on…true Southern style cornbread MUST be baked in a cast iron skillet and must NEVER have sugar in it.
Like most Southern kids, I got my daily dose of cornbread. Momma made it everyday because my dad had to have it with dinner every night. So imagine how heartbroken I was when I couldn't eat gluten anymore. 🙁
I tried making cornbread with plain cornmeal, but it was way too course and it wasn't like Momma's cornbread. I kind of accepted the fact that I was never going to have the cornbread I loved as a kid. Here lately, I've fallen in love with King Arthur measure for measure flour, so I decided to try it my cornbread recipe.
OMG, ya'll, it tastes just like I remember. This easy recipe is the best homemade gluten free cornbread I think I've ever made!
How to Make Cornbread with Gluten Free Flour
Luckily with King Arthur gluten free flour I didn't really have to change my mom's recipe much, but it does have to have a little extra prep to get a good and tasty result.
I've found that when baking with gluten free flour you have to sift…a lot. To avoid the dreaded dried out hockey puck that happens so often in gluten free cooking, follow these simple steps:
Sift the flour before you measure it.
Spoon it lightly into your measuring cup and level the top without packing the flour down.
Sift it again with your other dry ingredients.
I've always been a lazy baker, but that had to change once I started making wheatless goodies.
Me pre-GF: "Sift? Nope, ain't nobody got time for that. Throw it all in there, stir it up, and we're good to go."
Me now: "Sift, sift, sift. I love to sift."
Gluten free flour can be very dense. If you don't sift your flour you'll end up with more flour in your recipe, which is why so many times your gluten free baked goods come out hard and dry.
I've actually tested this out. This skillet cornbread recipe calls for 1/2 cup flour. I measured 1/2 cup flour, sifted it, and then spooned it back into my 1/2 cup. I had about a tablespoon of flour left over.
I've tested this out on a lot of recipes. I always have leftover flour. So if you never get good texture when you bake GF, try sifting before you measure your flour.
Is All Cornmeal Gluten Free?
Watch closely when you buy your cornmeal. There's cornmeal that's plain ground corn with some added vitamins, and then there's self-rising cornmeal mix. The cornmeal mix has wheat flour in it, so double check the ingredients to make sure you are buying plain ground cornmeal.
Yield: 8 Servings
Authentic Southern Gluten Free Cornbread Recipe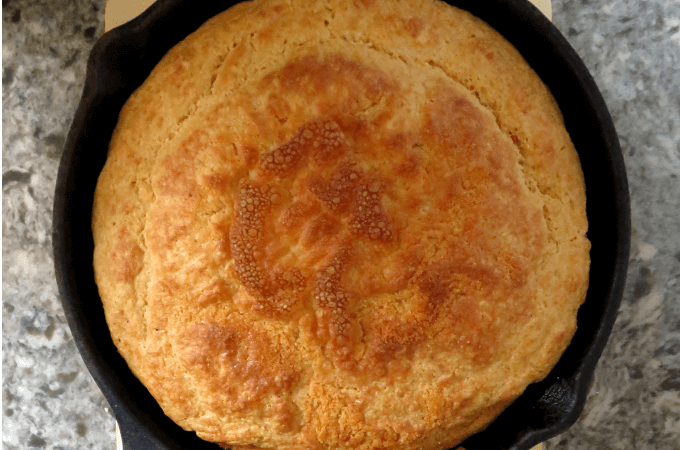 A Southern style gluten free cornbread recipe that's easy to make and of course tastes best baked in a cast iron skillet.
Ingredients
3 tbsp shortening or bacon grease
1 cup cornmeal
1 tsp baking soda
1 tsp salt
2 eggs
1 1/2 cups buttermilk
Instructions
Preheat the oven to 425 F.
Put the shortening or bacom grease into a cast iron skillet and place in the oven.
Sift and then measure the gluten free flour.
Add the other dry ingredients to the flour and sift again.
In a separate bowl, whisk the eggs until foamy and then add the buttermilk.
And the rest of the dry ingredients and stir well. The batter will be runny.
Take the hot skilled from the oven and pour the batter onto the hot grease.
Put the skilled back into the oven and bake for 20-25 minutes until golden brown.
Notes
Don't skip the sifting before you measure step. Your texture will be off.
Don't have buttermilk? No problem! Add a teaspoon of vinegar to the milk and let it set for a few minutes to curdle.
If you want true authentic Southern cornbread flavor, use bacon grease.
Use this recipe to make gluten free cornbread stuffing.
Tips For Making the Perfect GF Skillet Cornbread
Sift!
Grease your pan with bacon drippings.
Use a cast iron skillet
Do not add sugar! (Ok, so maybe this part is optional, it's just not authentic. 🙂 )