Easy gluten free fudge. Forget the guilt when you bite into this healthy Holiday dessert. Learn how to make gluten free fudge in 3 simple steps.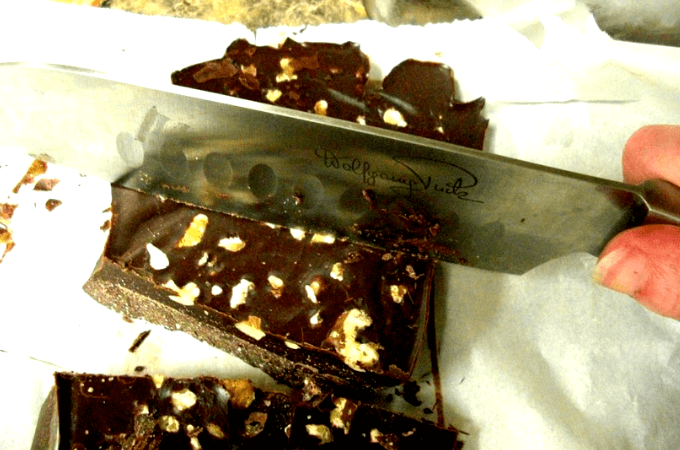 Coconut Oil Fudge
I always wondered as a child, especially when my mother was making me eat Brussels sprouts, why God didn't make healthy food taste like chocolate? To my six-year-old mind it made perfect sense. If it's supposed to be good for you, why didn't it taste, you know, good?
Fast forward a little over 30 years later and I still don't like Brussels sprouts, but I am still in love chocolate.
I still wonder why a lot of healthy dishes don't taste out of this world amazing, but I have found one yummy healthy dessert that gives me all the chocolate feels.
Fudge made with coconut oil.
Coconut oil fudge is a delicious way to get healthy fat into your diet when you're low carb or keto.
I use it as an excuse to eat chocolate. Oh, I've got to get more fats into my diet. Better eat me some fudge.
Darn.
Sometimes I'll eat it for a snack, other times I have a piece or two in the morning with my tea if I'm not very hungry. I make my friends choke when they ask me what I had for breakfast that day and I casually tell them fudge. They think I've fell off the wagon, but I know I'm really eating healthy.
Healthy Christmas Fudge
I don't know what it is about the holidays and sweets, but you can't seem to have one without the other.
I used to bake batches of  cookies and other sweets for Christmas. Since I became gluten intolerant, I've had to revamp all of my recipes, even the Christmas standbys.
Fudge always reminds me of Grandma in Missouri. She made the best fudge I've ever tasted because she used black walnuts. They have a distinctive flavor that doesn't even resemble typical English walnuts. I'm here in Florida, and it's a nut that's not grown down here.
To me, fudge isn't fudge without black walnuts, and I've kept her tradition by adding black walnuts to my gluten free fudge, but you can replace it with your favorite nut or don't use any nuts at all.
To sweeten my coconut oil chocolate fudge without making it gritty and grainy, I used Confectioner's Swerve. This is a no-cook fudge recipe, and that's why you can't use a granulated sweetener. It won't dissolve, and you'll be left with a grainy crunchy goop.
Yield: 12 servings
Easy Gluten Free Fudge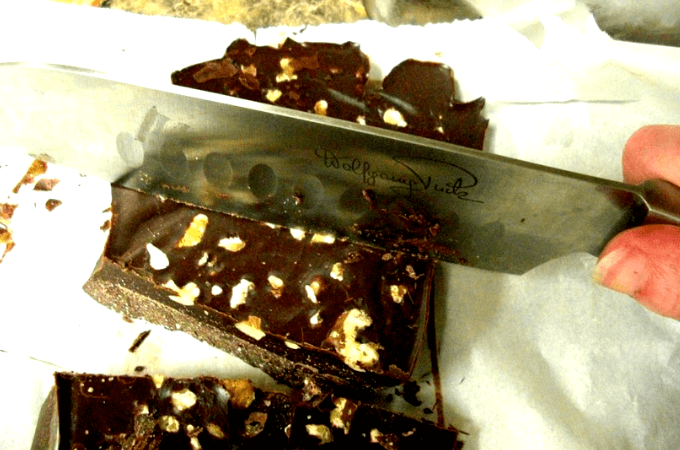 Easy gluten free fudge. Forget the guilt when you bite into this healthy Holiday dessert. Learn how to make gluten free fudge in 3 simple steps.
Ingredients
1 cup Cocoa Powder
1 tsp Vanilla
Dash of Salt (optional)
Instructions
Line a small loaf pan with waxed or parchment paper.
In a bowl, mix oil, cocoa, sweeteners, vanilla, and salt. Combine well. Pour mixture into lined loaf pan. Refrigerate for an hour. Remove your chilled fudge and sprinkle nuts on top. This is to keep them from sinking to the bottom.
Return to refrigerator. When your fudge is solid, remove from loaf pan. Using a large knife, cut into small squares. Store in an airtight container and refrigerate.
Notes
Do not use a granulated sweetener or sugar. This is a no-cook fudge recipe and the sugar won't dissolve. Do not store at room temperature as your fudge will melt in temperatures above 76F.
Recommended Products
As an Amazon Associate and member of other affiliate programs, I earn from qualifying purchases.
Does Fudge Have Gluten?
Gluten is a sneaky little booger. It hides in foods you never thought could contain gluten. A standard fudge recipe typically won't have gluten, but using uncertified ingredients can make everything go downhill fast.
So instead of giving friends the third degree about what they put into their fudge before I eat it, I find it's easier to just make my own.
So when making this simple GF fudge recipe, be sure to use only ingredients that are labeled gluten free. But you knew that already, didn't you. 😉
How Do you Make Fudge with Cocoa Powder? Is that Even Possible? :-/
Most traditional fudge recipes are made with cocoa powder. It's only been the last few decades that fudge recipes have popped up that's made from melted chocolate.
Grandma would be proud I'm making fudge with cocoa powder, just like she did when I was a kid. However, this recipe is so much simpler than hers because it's not cooked to the soft ball stage.
So if you haven't tried old school fudge made with cocoa powder, give this quick and easy GF recipe a try.