A yummy gluten free chili recipe that makes just the right amount for two people. Whip it up and have it on the table in less than 35 minutes. It's the perfect weeknight comfort food.

Happy Fall, Ya'll…It's Chili Time!
When the days get shorter and the temperature dips, around here that means chili weather.
Now, I know you're probably thinking, Julia, seriously, you're in Florida. You don't have Fall.
Okay, so my Fall and your Fall are probably two totally different animals. But here in Florida, when it dips below 68, it's Fall.
And, to me, that means chili weather.
Back in the day when I came home from school and saw that that pot of chili simmering on the back of the stove, I knew dinner was going to be awesome!
Chili, shredded cheese, crackers…OMG. Best. Dinner. Ever.
Navigating the comfort food waters can be tricky when you're gluten intolerant. But my quick and easy chili is wheat free, fabulous, and the perfect small batch recipe for two.
How Do You Make Gluten Free Chili?
Going through Autumn without having chili for dinner at least two (or 10) times is a sin.
Luckily, it's easy to make chili gluten free, so I can easily meet my chili quota for the season.
Many recipes add flour or masa to thicken chili. Instead, I don't add as much liquid and keep everything chunky which makes this GF chili thick and hearty.
Canned beans are almost always gluten free, (I use Bush's) but, of course, always check your ingredients to be sure they're certified gluten free. This will guarantee you your chili is wheatless.
This Recipe Makes a Small Batch
I've always been someone who can cook for a crowd, which wasn't a problem when my son lived with us. But now that it's just my husband and me, I've had a hard time cooking for two but I'm learning. 🙂
This recipe is perfect for two people. It makes about four bowls of chili, which means my husband gets his two bowls, and I get one for dinner and one for lunch the next day.
Gluten Free Chili Recipe Tips
This one pot dinner is very economical. I often buy ground pork because it's cheaper than ground beef. It's not as greasy, and now I actually prefer the taste of pork chili rather than beef.
I make this recipe using a dutch oven, but it also cooks great in a crockpot. Just brown your meat and vegetables, throw it in the crockpot, and let it simmer all day.
This hearty chili is a meal in itself, just pair it with southern style gluten free cornbread and finish it up with a moist and fluffy GF spice cupcake.
Yield: 4 Bowls
The Best Gluten Free Chili Recipe for Two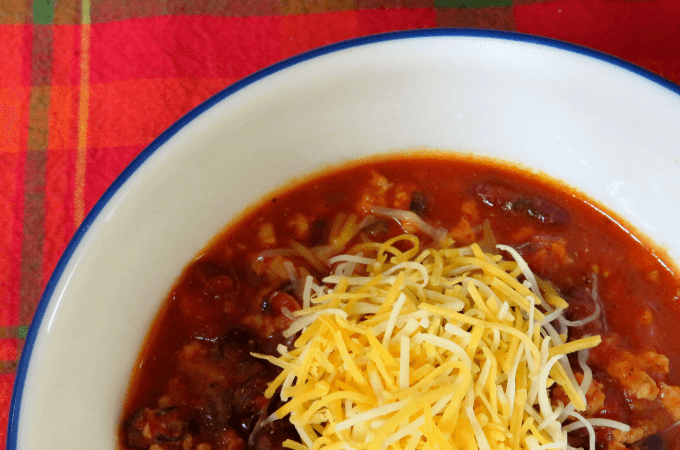 A yummy gluten free chili recipe that makes just the right amount for two people. Whip it up and have it on the table in less than 35 minutes. It's the perfect weeknight comfort food.
Ingredients
1 small onion, chopped
2 cloves of garlic
1 poblano pepper, seeded and chopped
(1) 13.4 ounce chili or kidney beans
10 ounces of ground pork or beef
1 tbsp chicken stock concentrate
(1) 13.76 ounce can of crushed tomatoes
1/4 tsp garlic powder
1/4 tsp red pepper flakes
1/4 tsp chili powder
1/2 tsp cumin
Salt and pepper to taste
1/2 cup water
Instructions
Finely chop the onion and the seeded poblano pepper. Mince the garlic and rinse and drain the beans in a colander.
Add the pork and seasonings to a large pan. Cook on medium heat until the meat is no longer pink. Drain any fat and transfer to a bowl.
Add a bit of oil to the same pan and add the onions, poblano pepper, and garlic. Cook over medium heat. Cook until brown and softened. Add salt and pepper to taste.
Add the cooked meat, chicken stock concentrate, beans, tomatoes and 1/2 cup of water to the pan. Bring to a boil, and then reduce heat and simmer for 20 minutes until thickened.
Notes
Instead of simmering on the stove, I use a Lodge dutch oven as a slow cooker and cook in the oven at 250 F for 3-4 hours.
Of course, you can also use a crockpot, too!