The comfort food favorite chicken and dumplings gets a gluten free makeover. It's a southern classic so delicious even your non-GF friends and family will ask for seconds.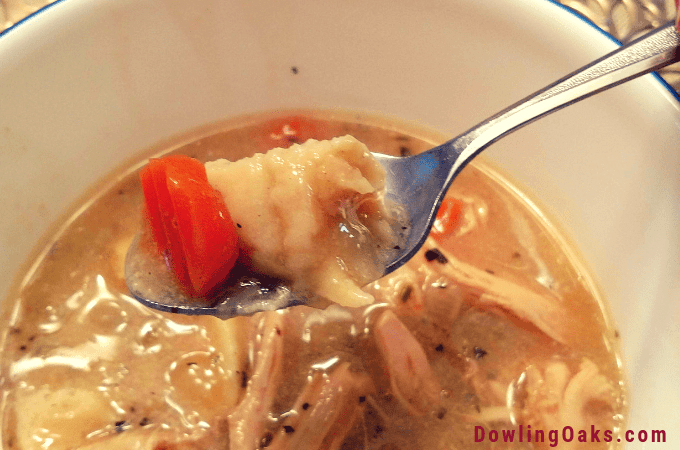 I Refuse to Settle for "Good for Gluten Free"
I used to fall into the "good for gluten free" trap. I settled for sub par tasting GF versions of the real thing because I didn't think I could make them taste as good as the original.
This meant I'd make two different meals, a wheatless version for me and an original for my family because they didn't like how mine tasted. Major time suck!
So I decided about a year ago to stretch my GF cooking skills to make dishes that would taste so amazing my family wouldn't even realize what they were eating was gluten free.
And when my husband asked me to make him chicken and dumplings, I knew I had to knock it out of the ballpark.
My challenge? To make homemade gluten free chicken and dumplings so good my husband would have to ask me, "is this really gluten free?"
How to Make the Best Ever Gluten Free Chicken and Dumplings
My husband has always been really supportive since I've had to go gluten free, and at this stage he'd never ask me to make something for him that I couldn't eat, too. He's always up for eating gluten free with me! (or at least giving it a shot 😛 )
I work long and weird hours during the week, so Sunday afternoons have become the time I go all out on dinner. I usually make a hearty homemade dinner and dessert. My son and DIL have figured this out, so they usually make it a point to visit on Sundays. With company coming over, I knew my flourless dumplings had to be on point.
I've found that the secret to making a GF dish taste so good no one can tell it's gluten free is to use quality ingredients to amp up the flavor. I used a quality chicken bone broth as the base for my soup, and homemade broth would be awesome, too. But, please, for all that is holy, don't use a cheapo brand. Trust me, you taste what you pay for.
Instead of going the typical frozen vegetable route, I used fresh carrots, potatoes, and onions, but I did use frozen green peas just because finding fresh is hard if they're not in season and canned peas are mushy.
Let's face it, the best part of chicken and dumplings are the dumplings. I use King Arthur's all purpose flour because they make my drop dumplings fluffy and tender, but feel free to try your favorite all purpose GF blend and let me know your results.
Helpful Tips For Making Tasty Wheat Free Chicken and Dumplings
Add fresh chopped herbs like parsley, chives, rosemary, and thyme to the dumpling batter.
Use all purpose gluten free flour, not measure for measure gluten free flour.
Don't add the cornstarch directly to the soup. Whisk the cornstarch into milk, then stir it into the soup mixture. Remember, you're going for smooth and creamy, not lumpy and goopy.
I bought a rotisserie chicken and cut the breast meat into chunks. It saved time and added a lot of flavor.
If you don't have baking powder, that's okay. These dumplings still fluff up well and taste great if you leave out the baking powder.
Once you've dropped the dumplings into the stew, cover with a tight fitting lid and resist the urge to peek for the 15 minute cook time. (That's my Momma's secret to cooking fluffy drop dumplings 🙂 )
Yield: 6 Servings
Gluten Free Southern Style Chicken and Dumplings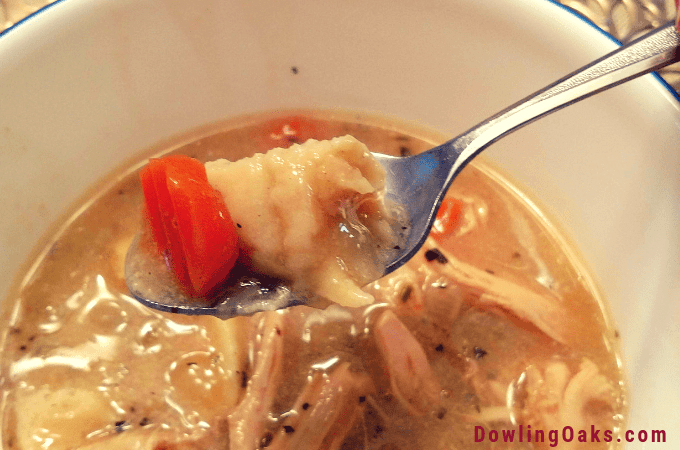 The comfort food favorite chicken and dumplings gets a gluten free makeover. It's a southern classic so delicious even your non-GF friends and family will ask for seconds.
Ingredients
Chicken Soup
4 cups chicken broth
2 large cooked chicken breasts, chopped
2 small onions, diced
2 small potatoes, cubed
1 cup slice carrots
1 cup frozen English peas
1 cup milk
1 tsp salt
1 tsp pepper
Dumplings
1/3 cup milk
2 tbsp melted butter
1 egg
1 tbsp chopped herbs like parsley, chives, rosemary, or thyme (optional)
Instructions
In a 6 qt dutch oven, saute the onions in a drizzle of oil until soft.
Next, add the chicken broth, chicken, remaining vegetables and salt and pepper and bring to a rolling boil.
While the soup mixture comes to a boil, whisk 1 cup of milk and cornstarch in a small bowl. Add to the chicken soup, stirring well. Continue to boil for 5 minutes, or until it starts to thicken,
In a small bowl, mix the dry dumpling ingredients together with a fork, then add 1/3 cup milk, melted better, and egg. Stir until it just comes together. You'll have a wet, ragged dough.
Drop by rounded tablespoons into the boiling soup mixture. Cover, reduce heat, and let simmer for 15 minutes. Do not lift the lid before 15 minutes is up.
Remove from heat and serve. Enjoy! 🙂
Notes
You must use all purpose gluten free flour. Do not use measure for measure gluten free flour.
Do not lift the lid to check on or stir the chicken and dumplings before the 15 minutes is up. It will release the steam and your dumplings won't be as fluffy.
To cut down on prep time and add a boost of flavor, use the chicken breasts from a store bought rotisserie chicken.
This recipe is versatile. Leave out the dumplings and add rice or gluten free noodles for a hearty gluten free chicken soup.
Recommended Products
As an Amazon Associate and member of other affiliate programs, I earn from qualifying purchases.
Pin for Later: