A simple gluten free pumpkin pie. This gluten free no crust pumpkin pie recipe is sugar free, low carb and delicious. A perfect healthy Thanksgiving dessert!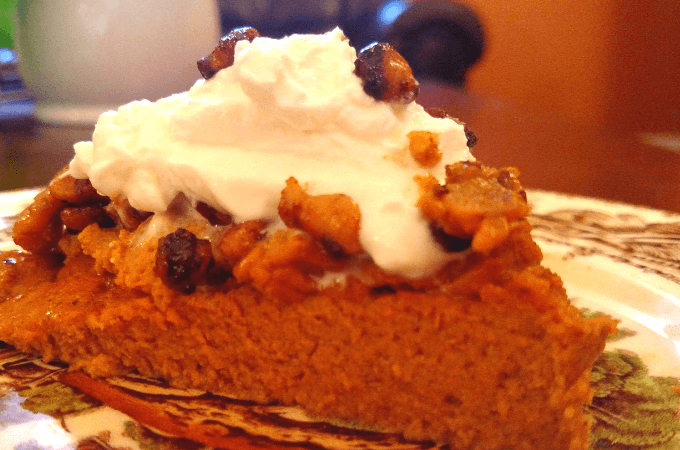 I Just Want Pumpkin Pie for Thanksgiving
I remember the first Thanksgiving after I became gluten free. I had also started a keto diet that fall. (not a good choice to make right before the holidays!) It was not very long into November when I realized October is a bad time to start a new diet.
OMG, I thought it was going to be the worst Thanksgiving ever. I knew the main meal wouldn't be a problem, because there would be plenty of meats and vegetables to choose from.
What I was worried about was the important stuff…like dessert. I'm looking at you pumpkin pie! What's Thanksgiving dinner without the pumpkin pie?
So I made sure I volunteered myself to bring dessert so I knew there would be something for me to eat, namely some version of a gluten free crustless pumpkin pie. I was determined to find a way to make some kind of a wheat free pumpkin dessert that would take the place of traditional pumpkin pie.
Enter My Gluten Free No Crust Pumpkin Pie
I looked over my mother's go to pumpkin pie recipe, and I was relieved when I realized it wouldn't take much fixing up to make it low carb, sugar free and gluten free. Obviously, the crust had to go. But that was okay because the filling's the best part anyway, right?
I did swap out sugar for Steviva
 to lower the carbs and make it a bit healthier. I also thought it needed a little crunch since there wouldn't be a crust, so I toasted some pecans in butter and Steviva to make a crunchy streusel topping.
I didn't want to ruin my healthy pumpkin dessert by topping it off with store bought whipped topping, so I made my own out of heavy whipping cream.
My pie was a hit that year. Not just with me, but with everyone else who had a piece. This is now my go-to easy gluten free pumpkin pie recipe for the holiday season.
Yield: 8
Simple Gluten Free Pumpkin Pie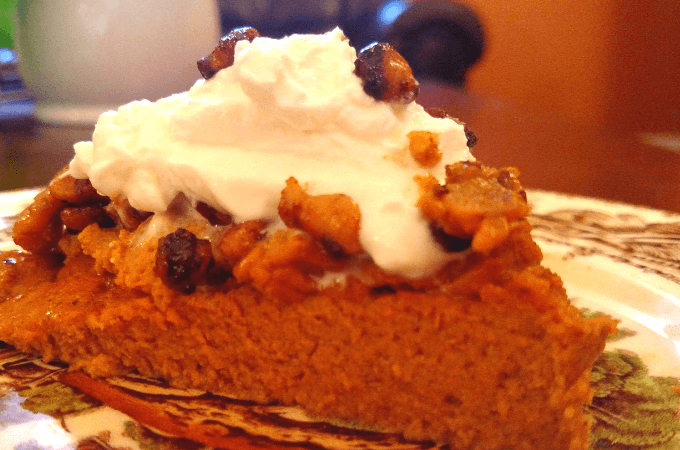 Ingredients
For the Filling:
1 Can of Pumpkin (Or use two cups fresh)
2 eggs
1 Cup Heavy Whipping Cream
2 tsp Pumpkin Pie S1/2 tsp saltpice
1 Cup Nuts of Your Choice
4 tbsp Butter
1 tbsp Sweetener (or to taste)
Instructions
Preheat oven to 350F and grease an 8-inch pie plate.
In a large bowl, combine all ingredients and mix until smooth. Pour into your greased pie plate. Bake for 1 hour, or until set.
To make the pecan topping: In a skillet, toast nuts in the butter and add your sugar/sweetener. Toast till brown. Let cool slightly before sprinkling it on the pie.
Serve with whipped cream, if desired.
Notes
Use this as a pumpkin custard or as a gluten free pumpkin pie filling to fill your favorite GF pie crust.
If you're not counting carbs, swap out Steviva with sugar.
Recommended Products
As an Amazon Associate and member of other affiliate programs, I earn from qualifying purchases.
Is Canned Pumpkin Gluten Free?
Mashed pumpkin straight from the pumpkin is naturally gluten free, but what if you don't have the time to roast and puree a pumpkin yourself?
Is canned pumpkin safe for celiacs and those of us with gluten intolerance?
Luckily if you're in a time crunch or just not the Martha Stewart crunch canned pumpkin is 100% gluten free. Of course, as you're well aware by now, it's always best to be safe and read the label to be certain there's no wheat products in your pumpkin.
Personally, my favorite brand is Libby's, and it's certified GF right there on the front of the can.